Why choose LicensePlateData?
Our products provide in depth vehicle data to fit your needs.
License Plate
Retrieve vehicle information by license plate instantly.
Up to date and accurate data.
VIN Specifications, Vehicle Color and Vehicle Stock Image.
Our North American Vehicle Database, which includes passenger cars, motorcycles, atvs, light and heavy trucks and trailers is the most up to date source to ensure that you can successfully retrieve information from a license plate. We cover all vehicles 1981-present as long as the registration is up to date and actively registered.
Recall Records
Retrieve all repaired and unrepaired recalls by license plate or VIN.
Up to date and accurate data.
Date of Recall, Campaign Number and Manufacturer Recall Number.
Component/Auto Part at Risk
Summary of the issue.
Retrieve a list of repaired and unrepaired recalls for a particular vehicle. Recalls are reported by manufacturers who determine that a product or piece of original equipment either has a safety defect, or is not in compliance with federal safety standards, are required to notify NHTSA within five business days. NHTSA requires that manufactures file a defect and noncompliance report as well as quarterly recall status reports, in compliance with Federal Regulation 49 (the National Traffic and Motor Safety Act) Part 573, which identifies the requirements for safety recalls. NHTSA stores this information and the data can be used to search fo recall information related to specific NHTSA campaigns and product types.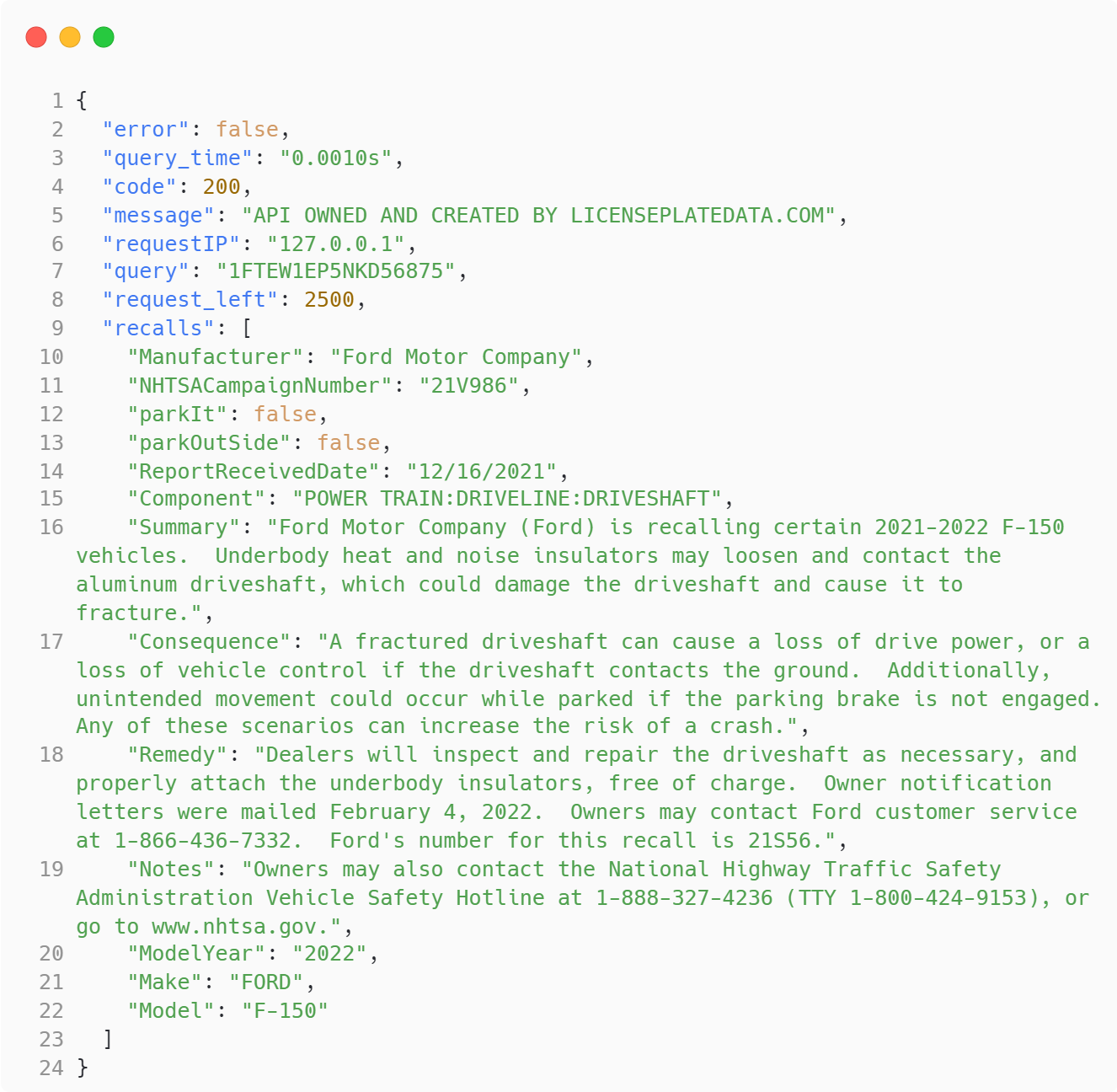 Vehicle History*
Retrieve vehicle history information by license plate or VIN.
Up to date and accurate data.
Accident Records (Date, Location and Airbag deployment)
Title Brands (Salvage, Loan/Lien, Damage Records and more)
Odometer Readings
Perfect for Trade-In Forms and Dealerships! Our vehicle history API returns a comprehensive list of history records for new and used vehicles by license plate or vin. Seemlessly add our API into your system to ensure you have all the information you need at your fingertips.
* LicensePlateData Vehicle History Reports are based on information supplied to LicensePlateData. LicensePlateData does not have the complete history of every vehicle.
Trusted by thousands, including:










Our Pricing
Need a custom plan? Contact us!
2,500 Monthly Request

License Plate Lookup

VIN Decode

Recall Records

Vehicle History
Custom Monthly Request*

License Plate Lookup

VIN Decode

Recall Records**

Vehicle History**
* "Build Your Own" custom monthly request must exceed PRO plans request volume of 2,500 a month. We do not offer lower custom plans.
** Additional charges may apply for Recall Records and Vehicle History access, access is not immediately offered on custom plans.
Frequently Asked Questions
Our vehicle data comes from various sources including government agencies, proprietary sources, public and private sources and data aggregators.
No, unless you hold a Enterprise plan with LicensePlateData you may not resell our data.
No
, you may not share your API/Consumer Key with anyone.
Doing so is in direct violation of our
Terms and Conditions
.
Yes
, you may upgrade your membership plan. If this is something you are looking to do please
contact us
.
Contact Us
Let's get this conversation started. Tell us a bit about yourself, and we'll get in touch as soon as we can.